Get the 'SPEECH SCHOOL ADVANTAGE' - register today: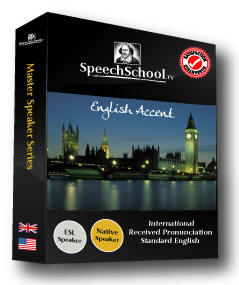 English Accent Program:
•
Speak more clearly
•
Gain preferred English accent (UK & US)
•
Neutralise existing accent
• Eliminate speech problems
•

Improve confidence in speech
Master Communicator:
•
Reach full potential of voice

• Speak &
communicate more effectively
• Learn key speech techniques
• Improve abilities to persuade & influence
• End public speaking fear
"I have now achieved my goal of gaining a job in my field in London! Thank you so much for the speech training you provide. It has neutralised my accent and given me confidence and the ability to present myself well in interview situations. Due to this I have been able to gain work here shortly after arriving."

- Christina Wong, IT Professional

More Testimonials