Master Communicator Training program
- Public Speaking & Presentation Skills for Lifelong Advantage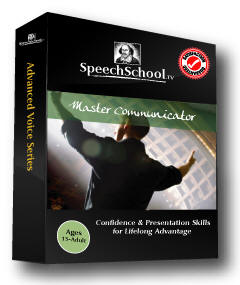 ONLINE SUBSCRIPTION PROGRAM
◄
Master Communicator
is for speakers of English and company representatives who want to learn the techniques to reach the full potential of their voice and speak and communicate much more effectively. The course is designed to train speakers to a professional broadcast level of presentation.
Watch video
Benefits to the learner:
Improving speech and communication skills is one of the easiest ways to get ahead in work or business. Speech is important in making a good impression. While initial impressions are first based on grooming and presence, they are then enhanced or reduced by the quality of speech.

Many outcomes in business and life depend on the effectiveness of your speech and communication. Structured development in these areas can lead to improved results. This is the ultimate sales training course to lift your success!

The Master Communicator program will empower your speech by providing the ongoing coaching you need to develop confidence, public speaking and presentation skills for lifelong advantage:
● Improved abilities to

persuade and influence


● Gain the confidence to speak and communicate much more effectively through knowledge of the techniques.
● Learn how to hold your listeners' attention and interest in any situation
● Gain a reputation as a superior speaker and presenter
● Gain a professional broadcast level of presentation
● Rapidly improve your value to your business or employer
● Learn to shape and structure your messages to get the results you want
● End public speaking fear!



Features of this program:



The Master Communicator online course is a sustained program of voice and speech development for people who want powerful speech. It covers

key speech techniques

:
● Public Speaking and Persuasive Speaking
● Voice Coaching - getting the best from your voice (achieving ideal levels of pace, pitch, pause, volume, tone and modulation and reducing any impairment such as nasality, monotone, mumble or stutter).
● Effective Communication for all occasions
● Professional Broadcasting
● Interview and negotiation skills
● Sales Presentation Training and customer communication
● Speech writing and using words with impact
● How to make your message memorable
● How to use humour and make your audience laugh
● Body Language and much more...



Suitable for learners:



●

Native (first language)

speakers of English wanting to empower speech with confidence and finesse.
●

Second language

speakers of English wanting to learn the techniques of advanced speaking skills with minimum of advanced English level (IELTS 5.5+ or TOEFL 525+)

Don't have IELTS 5.5? - We recommend doing the
English Speech Program
first.

● Ages 13+ to adult.
Usage:
For any English speaker wanting to improve the impact and results of their communication in personal, customer service or professional and corporate settings.


Program notes:


Many of the techniques taught in the Master Communicator Program are based on the presenter's own experience as a highly successful Creative Director in a Top 10 Advertising Agency producing Direct Response ads for Television that had to gain interest as soon as they were aired, often in as little as 30 seconds.
The techniques are highly magnetic and have been proven in over $15 million (£10 million) of media spend.

What does the course cover?
Please click here to read course contents
*Speech assessments require a plug-in microphone and cost $29.95 for subscribers ($59.95 for non-subscribers).
A minimum of a 6 month program is recommended to see results.
---
Program features:



Weekly 10-15 min online TV show providing expert voice coaching and training you in advanced speech techniques.




Learn multi-million selling communication techniques from TV ad industry





Summary notes that you can view anytime or print out for further reference.




Speech assessments available anytime with a graded report & analysis from qualified voice coach.*






Certificate of Excellence for achieving a professional broadcast standard.





Access to all your current & previous lessons 24 hours a day, 7 days a week.




Level: IELTS 5.5+ to native speaker (TOEFL 525+). Age: 13+ to adult


No fixed contract: cancel or change program anytime.
FREE TRIAL: Lesson 1 moneyback guarantee.





Certified Green Course:
All course materials online designed to produce higher performance than classroom




Course Contents
(please click)

---


Monthly Subscription:






FREE TRIAL: cancel after your first lesson if not satisfied for a full refund